Apple introduces next-generation iPad Pro, supercharged by the M2 chip
Apple today announced the new iPad Pro with the M2 chip, delivering the ultimate combination of portability, versatility, and unbelievable performance. The new iPad Pro features a next-level Apple Pencil hover experience and superfast wireless connectivity, along with the world's most advanced mobile display, pro cameras, Face ID, Thunderbolt, and a four-speaker audio system. New features in iPadOS 16 — including Stage Manager, full external display support,1 desktop-class apps, and Reference Mode — take pro workflows on iPad even further. Enabled by its advanced hardware and iPadOS 16, iPad Pro has an incredible ecosystem of powerful pro apps unlike any other device of its kind. The new iPad Pro is available to order starting today, and in stores beginning Wednesday, October 26.
"The next-generation iPad Pro pushes the boundaries of what's possible on iPad, bringing even more versatility, power, and portability to the ultimate iPad experience," said Greg Joswiak, Apple's senior vice president of Worldwide Marketing. "Powered by the M2 chip, the new iPad Pro features incredible performance and the most advanced technologies, including a next-level Apple Pencil hover experience, ProRes video capture, superfast wireless connectivity, and powerful iPadOS 16 features. There's nothing else like it."
iPad Pro in space gray.
iPad Pro in silver.
iPad Pro in 11-inch and 12.9-inch sizes.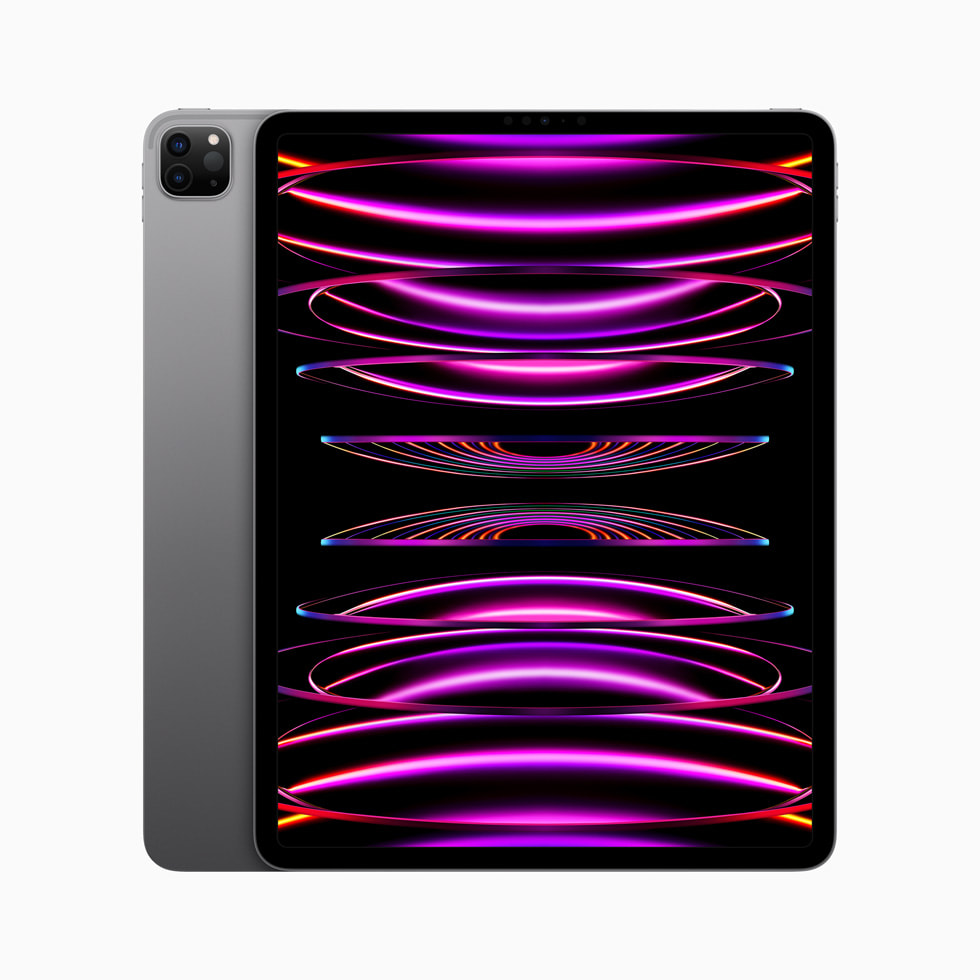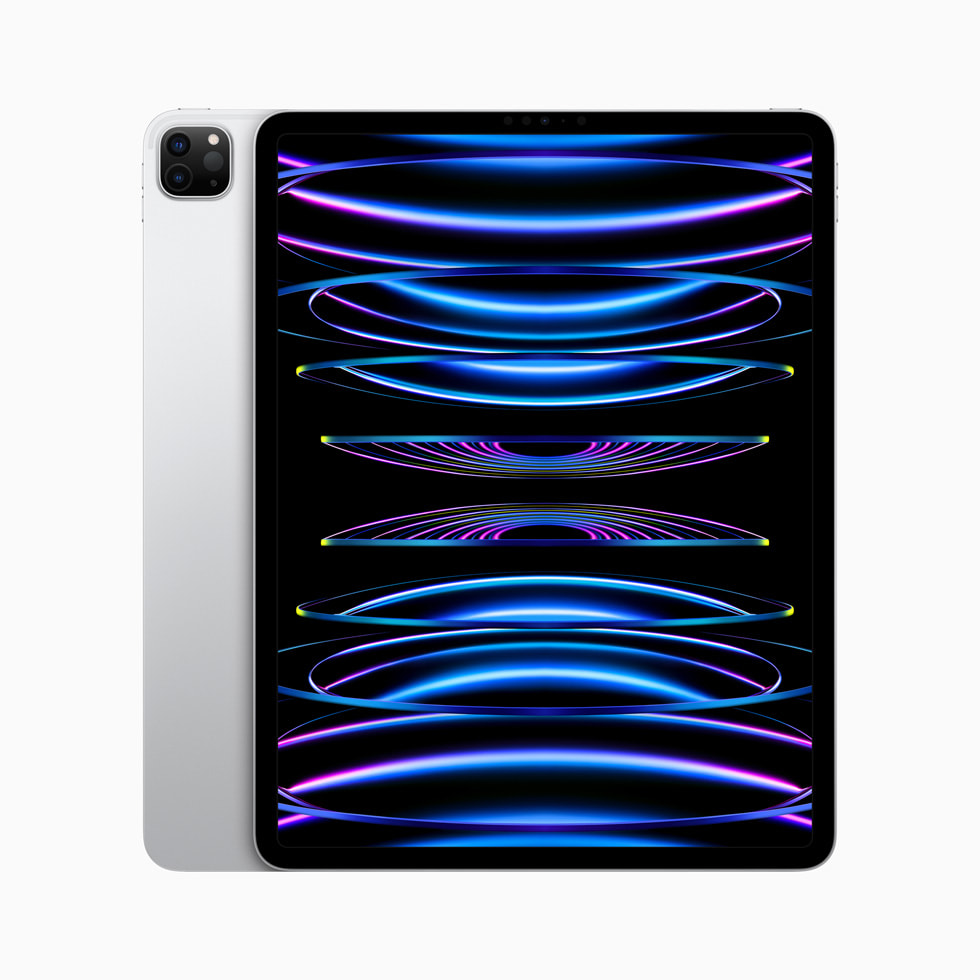 Breakthrough Performance from the M2 Chip
M2, the start of Apple's next generation of M-series chips, brings even more breakthrough performance and capabilities to iPad Pro, with industry-leading power efficiency, a unified memory architecture, and custom technologies.
M2 features an 8-core CPU — up to 15 percent faster than M1 — with advancements in both performance and efficiency cores, and a 10-core GPU, delivering up to 35 percent faster graphics performance for the most demanding users. Combined with the CPU and GPU, the 16-core Neural Engine can process 15.8 trillion operations per second — 40 percent more than M1 — making iPad Pro even more powerful when handling machine learning tasks. The M2 chip also features 100GB/s of unified memory bandwidth — 50 percent more than M1 — and supports up to 16GB of fast unified memory, making multitasking and working with large assets even more fluid.2
The performance of M2 turbocharges even the most demanding workflows, from photographers editing massive photo libraries and designers manipulating complex 3D objects, to healthcare professionals taking advanced imaging and analysis, to gamers enjoying graphics-intensive games. The power of M2 also extends to the new media engine and the image signal processor, which combined with the advanced cameras, enable users to capture ProRes video for the first time and transcode ProRes footage up to 3x faster. This means content creators can capture, edit, and publish cinema-grade video from a single device out in the field.
Editing a video using DaVinci Resolve on iPad Pro.
Editing an image using Adobe Photoshop on iPad Pro.
Editing using Affinity Publisher 2 on iPad Pro.
Editing a scene using Octane X on iPad Pro.
Editing on uMake on iPad Pro.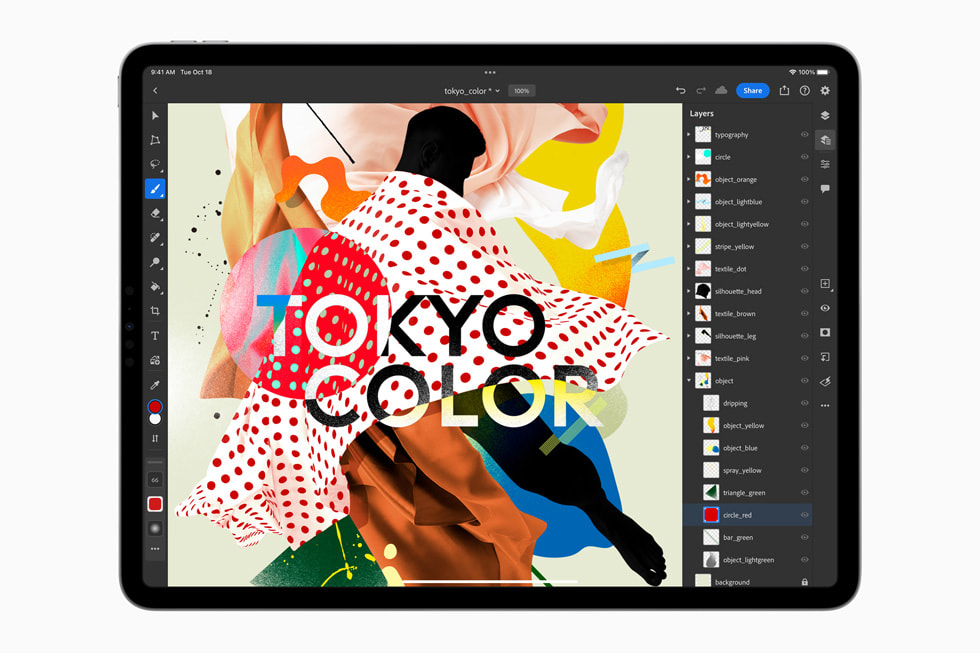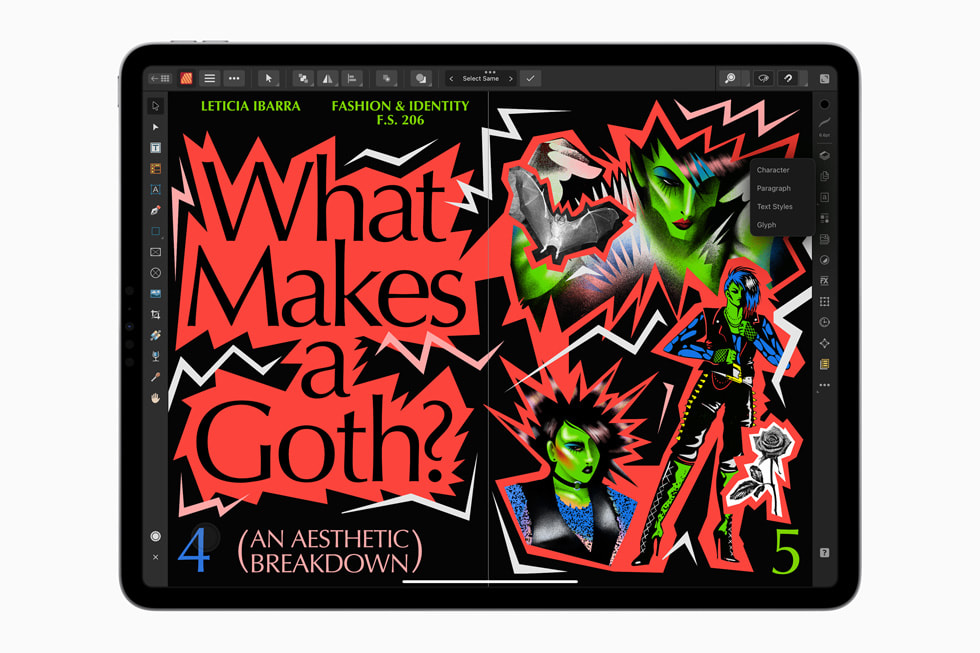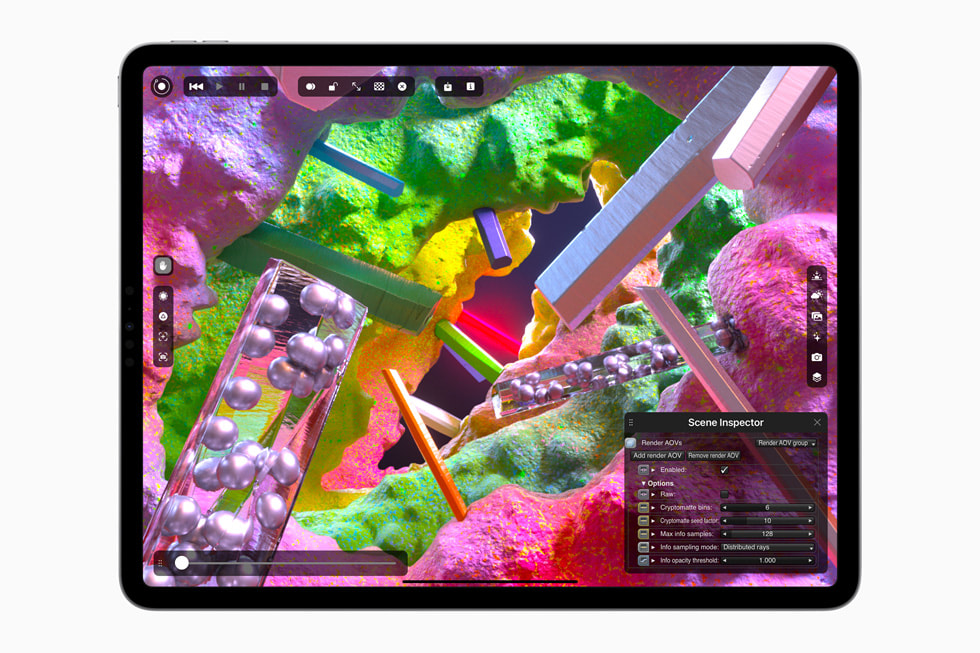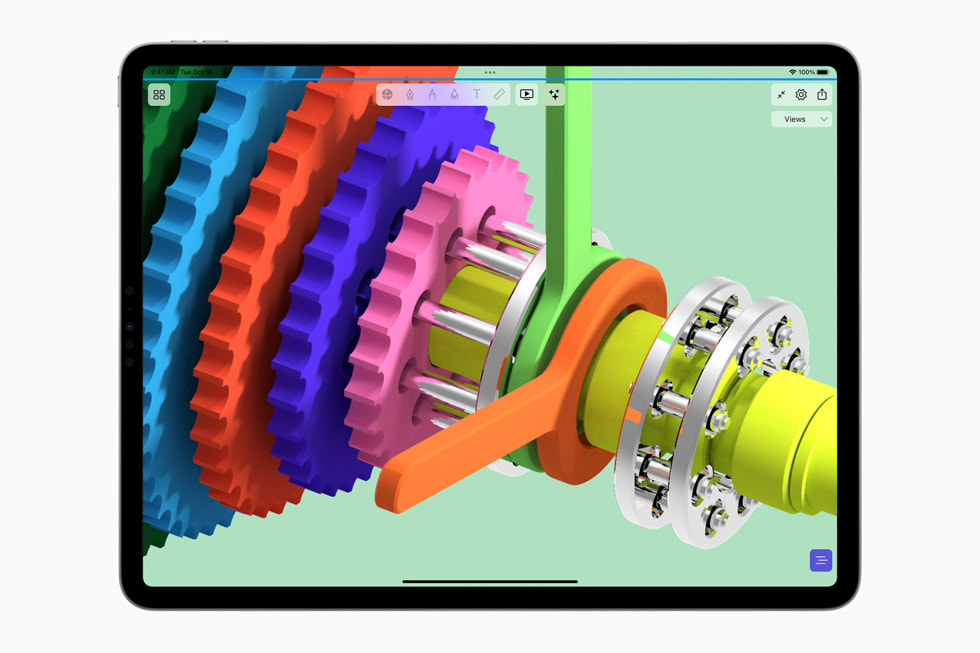 A Next-Level Apple Pencil Hover Experience
Powered by the new iPad Pro and iPadOS 16, hover with Apple Pencil (2nd generation) provides a completely new dimension for users to interact with their screen. Apple Pencil is now detected up to 12 mm above the display, allowing users to see a preview of their mark before they make it. This also allows users to sketch and illustrate with even greater precision, and makes everything users do with Apple Pencil even more effortless. For example, with Scribble, text fields automatically expand when the pencil gets near the screen, and handwriting converts to text even faster. Third-party apps can also take advantage of this new feature to enable entirely new marking and drawing experiences.
The Apple Pencil hover experience detects up to 12 mm above the display, allowing users to see a preview of their mark before they make it.
Superfast Wireless Connectivity
The new iPad Pro supports the fastest Wi-Fi connections with support for Wi-Fi 6E,3 so users who need fast connections can take their demanding workflows with them everywhere. Downloads are up to 2.4Gb/s, 2x faster than the previous generation. Wi-Fi + Cellular models with 5G (sub-6GHz and mmWave4) now support more 5G networks around the world, so users can access their files, communicate with colleagues, and back up their data in a snap while on the go.5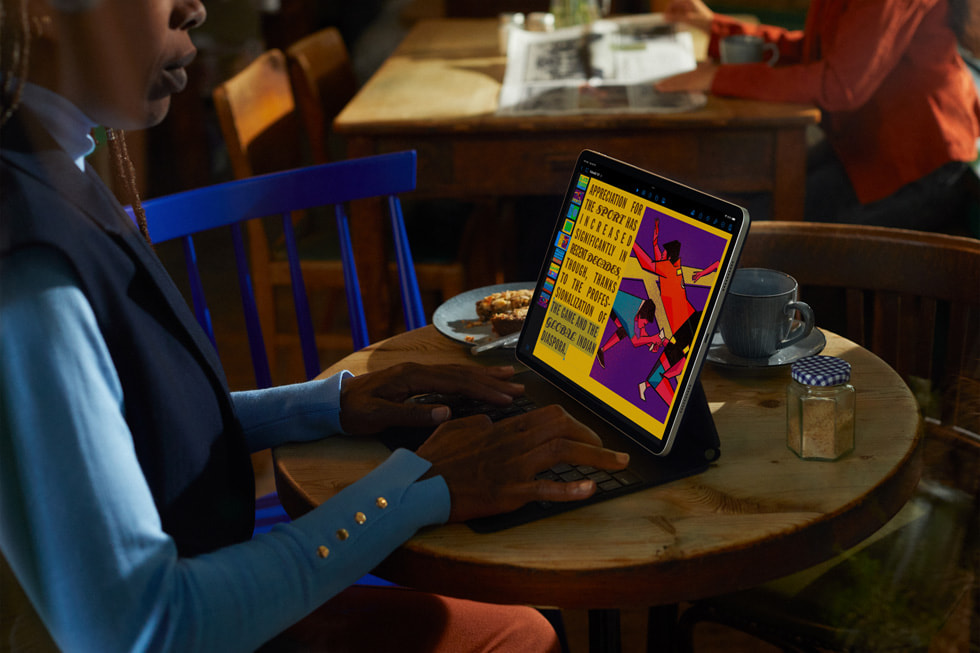 Unmatched Pro Features Enabled by iPadOS 16
In addition to big updates to Messages, new tools in Mail and Safari, the new Weather app, and more ways to interact with photos and video with Live Text and Visual Look Up, iPadOS 16 also introduces powerful productivity features that elevate the iPad Pro experience:
Stage Manager is an entirely new multitasking experience that automatically organizes apps and windows, making it quick and easy to switch between tasks. Later this year, Stage Manager will unlock full external display support with resolutions of up to 6K, so users will be able to arrange the ideal workspace, and work with up to four apps on iPad and up to four apps on the external display.
Desktop-class apps enable new capabilities optimized for the display on iPad Pro — making apps more capable with new elements and interactions, including a consistent undo and redo, a redesigned inline find-and-replace experience, a new document menu, customizable toolbars, and the ability to change file extensions, view folder size in Files, and more.
Reference Mode enables the 12.9-inch iPad Pro with Liquid Retina XDR display to match the color requirements in workflows like review and approve, color grading, and compositing, where accurate colors and consistent image quality are critical. That means pro users, including photographers and videographers, can edit HDR images and videos with every true-to-life detail right in their hands, and cinematographers on set can preview content in a color profile that represents the final capture.
iPad Pro with Magic Keyboard hooked up to Studio Display using Stage Manager on iPadOS 16.
iPad Pro customizing Pages on iPadOS 16.
iPad Pro using Reference Mode in Frame.io on iPadOS 16.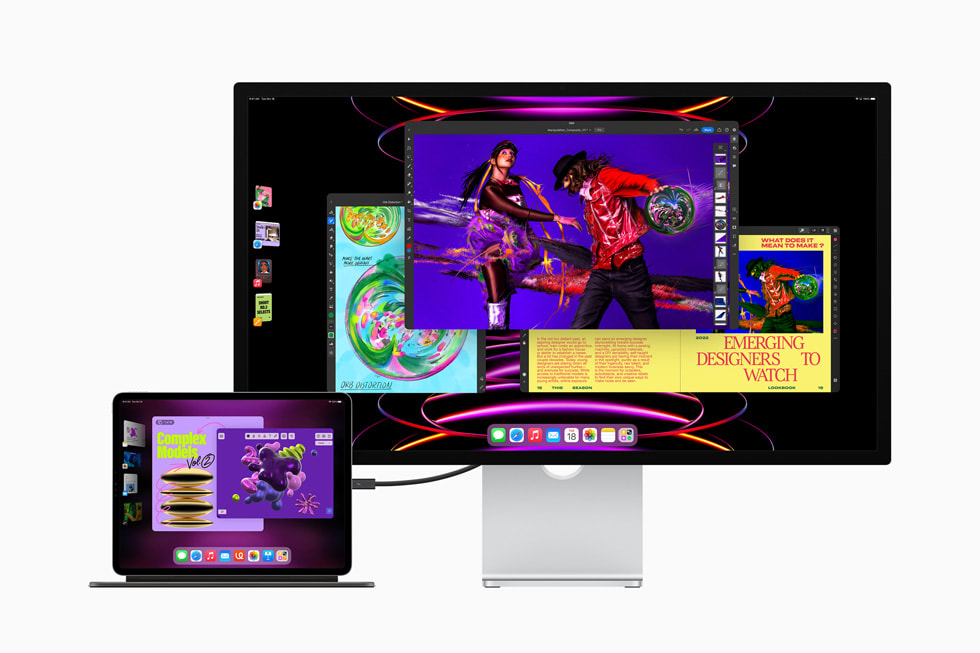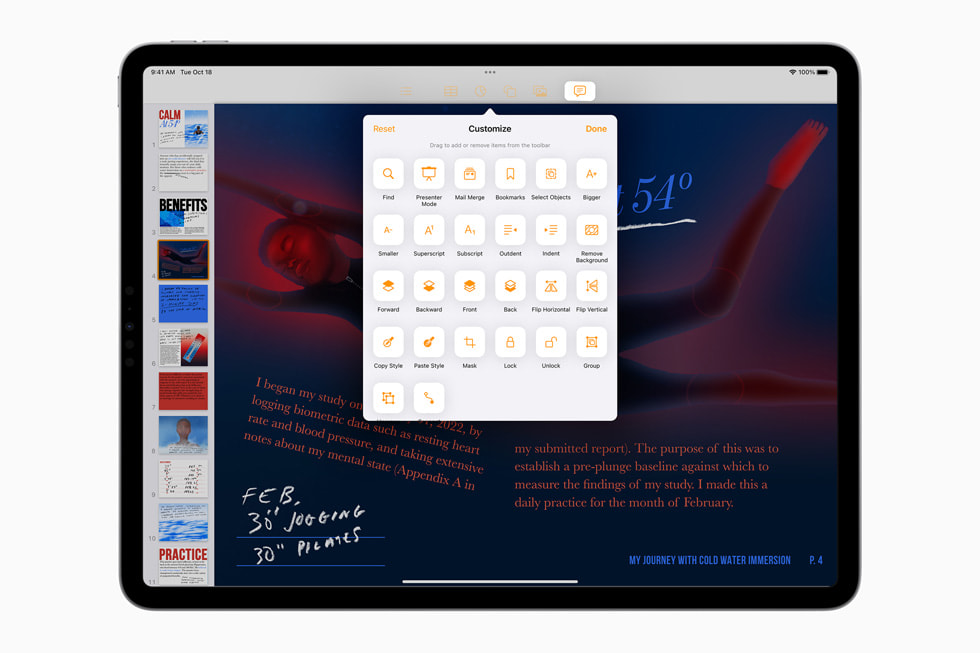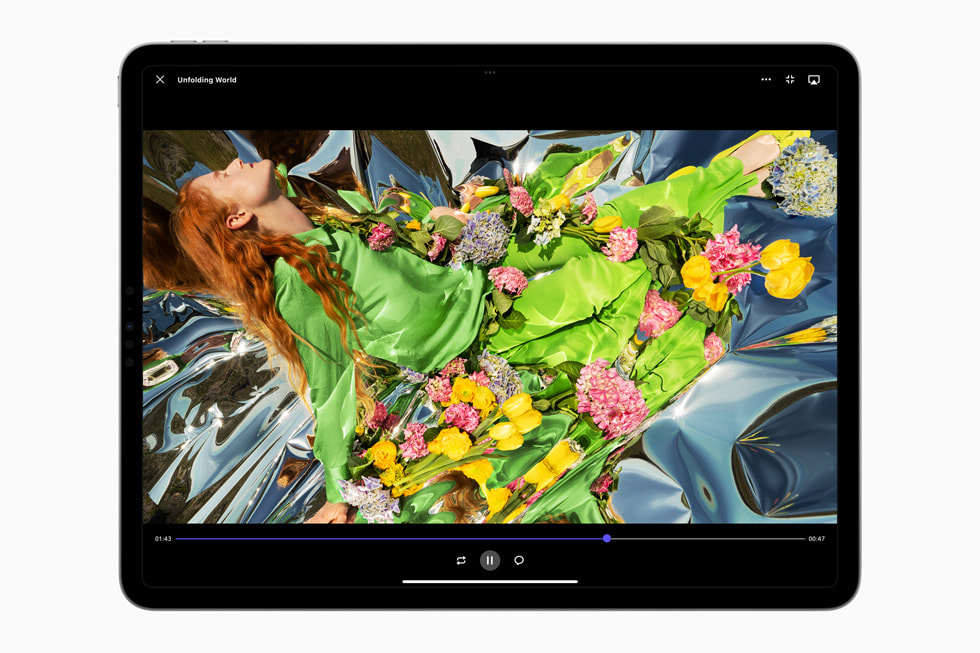 iPad and the Environment
The new iPad models are designed to minimize their impact on the environment and include 100 percent recycled gold — a first for iPad — in the plating of multiple printed circuit boards, as well as recycled aluminum, tin, and rare earth elements. All iPad models meet Apple's high standards for energy efficiency and are mercury-, BFR-, PVC-, and beryllium-free. Redesigned packaging in the new iPad Pro eliminates the outer plastic wrap, and 99 percent of the packaging is fiber based, bringing Apple closer to its goal of completely removing plastic from all packaging by 2025.
Today, Apple is carbon neutral for global corporate operations, and by 2030, plans to be 100 percent carbon neutral across the entire manufacturing supply chain and all product life cycles. This means that every Apple device sold, from component manufacturing, assembly, transport, customer use, charging, all the way through recycling and material recovery, will have net-zero climate impact.
Pricing and Availability
The new iPad Pro is available to order beginning today, October 18, at apple.com/store and in the Apple Store app in 28 countries and regions, including the US, with availability in stores beginning Wednesday, October 26.
The new 11-inch and 12.9-inch iPad Pro will be available in silver and space gray finishes with 128GB, 256GB, 512GB, 1TB, and 2TB configurations.
The 11-inch iPad Pro starts at $799 (US) for the Wi-Fi model and $999 (US) for the Wi-Fi + Cellular model; the 12.9-inch iPad Pro starts at $1,099 (US) for the Wi-Fi model, and $1,299 (US) for the Wi-Fi + Cellular model.
Apple Pencil (2nd generation), available for purchase separately, is compatible with the new iPad Pro for $129 (US).
Magic Keyboard is available in black and white for $299 (US) for the new 11-inch iPad Pro and $349 (US) for the new 12.9-inch iPad Pro, with layouts for over 30 languages.
The Smart Keyboard Folio for the new iPad Pro is available for $179 (US) for the new 11-inch iPad Pro and $199 (US) for the new 12.9-inch iPad Pro.
The Smart Folio is available in black, white, and marine blue for $79 (US) for the new 11-inch iPad Pro and $99 (US) for the new 12.9-inch iPad Pro.
Education pricing is available to current and newly accepted college students and their parents, as well as faculty, staff, and home-school teachers of all grade levels. The new 11-inch iPad Pro starts at $749 (US), and the 12.9-inch iPad Pro starts at $999 (US). The second-generation Apple Pencil is available for $119 (US), and the Smart Keyboard Folio is available for $159 (US) for the 11-inch iPad Pro and $179 (US) for the 12.9-inch iPad Pro. The Magic Keyboard will be available at $279 (US) for the 11-inch iPad Pro and $329 (US) for the 12.9-inch iPad Pro. For more information visit apple.com/us-hed/shop.
iPadOS 16, the powerful operating system designed specifically for iPad, will be available beginning Monday, October 24, and ships for free with the new iPad Pro. iPadOS 16 will be available as a free software update for iPad (5th generation and later), iPad mini (5th generation and later), iPad Air (3rd generation and later), and all iPad Pro models.
Customers can trade in their current iPad and get credit toward a new one. When their device has been received and verified, Apple will credit the value to their payment method.
Engrave iPad with a meaningful mix of emoji, names, initials, and numbers, all for free, available only at apple.com/store or in the Apple Store app.
Apple provides customers with a number of services in-store and online. From personalized support and advice from Apple Specialists to convenient delivery and pickup options, Apple ensures the best way to buy Apple products is from Apple Store locations and apple.com/store.
Waseem Fazal, a passionate blogger, possesses exceptional writing skills that captivate and inform his audience. With an innate curiosity for the latest trends, Waseem dedicates himself to researching and sharing invaluable insights, strategies, and trends that empower entrepreneurs and professionals alike. His engaging content not only resonates with readers but also provides them with the knowledge they need to thrive in their respective fields.
Exploring the Different Payment Options for Solar Installations Services
When shopping for solar panels, consider the different payment options available to homeowners. Cash, a home equity loan or a HELOC are popular methods to finance your solar system purchase.
Solar leasing and PPAs are also popular options for homeowners looking to go solar with minimal financial commitments. Sunrun and Momentum Solar offer solar leasing with monthly payments, including warranty coverage, system monitoring and maintenance.
Cash
The cash purchase option is best for homeowners who want the full benefits of solar — energy bill savings and tax advantages. It also helps avoid the interest expenses associated with a lease or PPA.
The upfront system costs of a solar power installation can be prohibitive for some households, especially when considering other financial obligations like mortgage payments and credit card debt. However, federal and state incentives may help offset some of the upfront costs.
If you lack the funds to pay in cash, your installer, Solar by Peak to Peak, can provide financing through a third-party lender. They'll usually offer low rates on solar loans, which are secured by the value of your home. This allows lenders to offer lower rates because they know you have "skin in the game," a key factor determining your ability to make monthly loan payments. To explore your options for financing, use the free solar calculator. This tool runs custom solar quotes with different financing scenarios and demonstrates your potential for savings.
Credit Card
If you're uncomfortable using a credit card, other financing options exist. These can range from personal loans to energy-efficient mortgages, which can help make solar even more affordable.
Homeowners in Highlands Ranch, Colorado, who purchase their systems in cash are also eligible for federal investment tax credits, which can save them up to 26% of the system's cost. In addition, homeowners who own their rooftop systems can benefit from New York's net metering policy, which credits them for the excess electricity they produce and send back to the grid, reducing their monthly bills.
If you plan to use a loan, it's important to remember that the average total interest costs will add about $5,000 to your overall project costs and prolong your payback period by about three years on average. Fortunately, lenders tend to favor borrowers with higher credit scores, so improving your score can significantly lower your loan interest rate.
Lease/PPA
With a solar lease or PPA, green energy adopters pay a flat monthly fee for the system's solar electricity. These payments often reduce energy costs significantly versus grid power rates.
A contract structure can differ between a PPA and a solar lease, so it's important to evaluate the terms carefully to ensure they align with your long-term energy needs. For instance, some PPAs may include a yearly escalator that can increase monthly energy costs over time.
Other PPAs might have a fixed price plan that keeps costs low even as utility rates rise. Solar energy contracts should also clearly state whether your agreement can be transferred to a new homeowner or if it requires a buyout upon selling your home. Also, check the contract for any site upgrades that might be necessary. If these aren't covered in the agreement, they can add to the cost of a solar installation project.
Loan
Financing is a great option for homeowners interested in buying solar panels. Many installers partner with specialized lenders to offer financing options like personal loans, home equity lines of credit (HELOC), and in-house loan programs.
The terms of your loan will depend on several factors, including your current credit profile, income, and debt-to-income ratio. You'll generally want a lender with low-interest rates, minimal fees, and generous loan terms that align with your energy cost savings goals.
While it may take time, improving your FICO credit score is one of the best ways to lower your solar loan interest rate. Ideally, you'll want a credit score of 650 or higher for the best results. In addition to increasing your loan eligibility, a higher credit score will help you qualify for a more attractive solar loan APR.
Waseem Fazal, a passionate blogger, possesses exceptional writing skills that captivate and inform his audience. With an innate curiosity for the latest trends, Waseem dedicates himself to researching and sharing invaluable insights, strategies, and trends that empower entrepreneurs and professionals alike. His engaging content not only resonates with readers but also provides them with the knowledge they need to thrive in their respective fields.
Tips For Embedding A PDF Correctly On Your Website
Embedding a PDF on your website can offer visitors valuable content, such as detailed product specifications, portfolios, academic papers, or user manuals. However, to ensure that these documents provide the best possible experience for your audience and don't hamper the performance of your site, it's vital to embed them correctly. Here are some top tips to guide you through the process.
1. Use a PDF Viewer:
Rather than forcing users to download the file, utilize a PDF viewer. This allows your visitors to view the document directly within the webpage, enhancing user experience. There are numerous plugins and tools available that can facilitate this, such as Google Docs Viewer or PDF.js for more advanced users.
2. Optimize Your PDF:
Before uploading, ensure your PDF is optimized for the web:
Compress the File: Use tools to reduce the file size of your PDF without losing significant quality. This ensures faster loading times.
Optimize Images: If your PDF contains images, ensure they're of appropriate resolution — not too high (which increases file size) and not too low (which reduces clarity).
Include Text Layers: Ensure your PDF has selectable text. This is essential for accessibility and for users who might want to copy or search the text.
3. Ensure Mobile Responsiveness:
More users are accessing content via mobile devices. Make sure that the embedded PDF viewer you choose is mobile-friendly. Users should be able to zoom, scroll, and navigate the PDF seamlessly on any device.
4. Prioritize Accessibility:
Ensure that your PDF is accessible to all users, including those with disabilities. This may involve:
Using Legible Fonts: Stick to standard, easily readable fonts.
Including Alt Text: For images or graphs in the PDF, use alternative text so screen readers can interpret and convey the content to visually impaired users.
Logical Navigation: Ensure that the PDF has a logical flow and utilizes headings and subheadings appropriately.
5. Provide a Download Option:
Even if your primary aim is to display the PDF on your site, offer a clear option for users to download the document. This caters to those who might want to save it for later reference or those who prefer offline viewing.
6. Monitor Analytics:
Track how users are engaging with the embedded PDF using web analytics tools. This can offer insights into how often the document is viewed, how long users spend on it, and whether they proceed to other sections of your site afterward. These metrics can inform whether the PDF content is resonating with your audience.
7. Test Thoroughly:
Before making the PDF live on your site, test the embedding across different browsers (Chrome, Firefox, Safari, etc.) and devices (desktop, mobile, tablet). This ensures that all your visitors get a consistent experience.
8. Secure Your PDF:
If your document contains sensitive information, ensure it's appropriately secured. This might involve:
Password Protection: Only users with the password can view the content.
Restricting Editing: This prevents unauthorized individuals from making changes to your document.
9. Regularly Update Your Content:
If the information in your PDF is subject to change, set reminders to review and update the document periodically. This ensures that your visitors always access the most current and relevant information.
10. Provide Clear Navigation:
If your PDF is long, consider adding a table of contents at the beginning, making it easier for users to navigate to sections of interest. Furthermore, ensure that there's an easy way for users to return to your main website from the embedded viewer.
Conclusion:
Embedding a PDF on your website can be a fantastic way to offer in-depth content to your audience. However, it's essential to ensure that the document enhances user experience rather than detracting from it. By following the above tips, you can present your PDFs in a way that's efficient, user-friendly, and accessible to all.
Waseem Fazal, a passionate blogger, possesses exceptional writing skills that captivate and inform his audience. With an innate curiosity for the latest trends, Waseem dedicates himself to researching and sharing invaluable insights, strategies, and trends that empower entrepreneurs and professionals alike. His engaging content not only resonates with readers but also provides them with the knowledge they need to thrive in their respective fields.
Unleashing the Potential: Exploring the World of Tech Stocks
Discover the exciting realm of tech stocks in this comprehensive article. Uncover insights, FAQs, and expert perspectives to enhance your understanding of tech stock investments.
Introduction
In the ever-evolving landscape of investments, tech stocks have emerged as a captivating and potentially lucrative option for investors. With technology permeating every aspect of our lives, the companies driving these innovations have garnered significant attention from both seasoned investors and newcomers to the market. In this article, we will delve into the realm of tech stocks, covering essential concepts, insightful tips, and common questions to empower you to make informed investment decisions.
Tech Stocks: A Closer Look
Tech stocks, short for technology stocks, refer to shares of companies primarily engaged in the development, production, and distribution of technological goods and services. These companies span a wide spectrum, including giants like Apple and Microsoft, as well as innovative startups working on groundbreaking technologies. Investing in tech stocks provides individuals with an opportunity to be part of the technological revolution and potentially benefit from substantial financial gains.
Navigating the Tech Stock Landscape
1. Understanding Different Types of Tech Stocks
Tech stocks can be categorized into various types, such as hardware, software, e-commerce, and social media. Each category presents distinct opportunities and risks. For instance, hardware companies focus on manufacturing devices, while software companies develop applications and operating systems.
2. Factors Influencing Tech Stock Prices
Several factors impact the price of tech stocks, including company performance, market trends, technological advancements, and global events. Staying updated on these influences is crucial for making well-informed investment decisions.
3. Risks and Rewards of Tech Stock Investments
Investing in tech stocks can yield substantial rewards, but it's essential to recognize the associated risks. While tech companies have the potential for rapid growth, they can also be vulnerable to market volatility, competition, and regulatory changes.
4. Conducting In-Depth Research
Thorough research is the cornerstone of successful tech stock investments. Analyze financial statements, company performance, competitive landscape, and industry trends to make informed choices.
Strategies for Tech Stock Investing Success
5. Diversification: The Key to Mitigating Risk
Diversifying your tech stock portfolio across different subsectors of the technology industry can help spread risk and reduce potential losses if a specific sector experiences a downturn.
6. Long-Term vs. Short-Term Investing
Decide whether you aim for short-term gains through active trading or long-term growth by holding onto stocks. Both strategies have their merits and require different levels of involvement.
7. Following Expert Analysis and Recommendations
Stay informed by following expert opinions, market analysis, and stock recommendations from reputable financial sources. However, remember to exercise your judgment before making investment choices.
Frequently Asked Questions (FAQs)
Q: Are tech stocks only suitable for experienced investors?
Absolutely not! Tech stocks are accessible to investors of all experience levels. It's essential to conduct thorough research and consider your risk tolerance before investing.
Q: How can I stay updated on the latest tech industry trends?
You can stay informed by regularly reading financial news, subscribing to industry publications, and following reputable technology blogs.
Q: What's the difference between tech stocks and other types of investments?
Tech stocks are shares of technology-focused companies, while other investments might include bonds, real estate, or commodities. Tech stocks offer a chance to invest in the growth potential of innovative companies.
Q: Can investing in tech stocks guarantee quick profits?
No investment is guaranteed to bring quick profits. While tech stocks have the potential for substantial gains, they also come with risks. It's crucial to have a well-thought-out investment strategy.
Q: How can I manage the volatility of tech stocks?
Managing volatility requires a diversified portfolio, setting stop-loss orders, and having a long-term perspective. It's also wise to avoid making impulsive decisions based on short-term market fluctuations.
Q: Is it better to invest in established tech giants or emerging startups?
Both options have their advantages and risks. Established giants offer stability, while startups can provide exponential growth potential. It's wise to have a mix of both in your portfolio.
Conclusion
Embarking on a journey into the world of tech stocks opens up exciting possibilities for investors. From understanding the various types of tech stocks to formulating a well-researched investment strategy, this article has equipped you with the knowledge needed to navigate this dynamic market. Remember, successful tech stock investing requires continuous learning, strategic planning, and a dash of patience. So, are you ready to dive into the world of tech stocks and potentially ride the wave of technological innovation to financial success?
Waseem Fazal, a passionate blogger, possesses exceptional writing skills that captivate and inform his audience. With an innate curiosity for the latest trends, Waseem dedicates himself to researching and sharing invaluable insights, strategies, and trends that empower entrepreneurs and professionals alike. His engaging content not only resonates with readers but also provides them with the knowledge they need to thrive in their respective fields.